ICW Days 45/46/47/48 Friday, Saturday, Sunday, Monday, Tuesday  December 2,3,4,5, 6 STM 897.5 19nm 1019 total miles
Friday – Short motor to marina, 2 fixed bridges and 2 bascule…child's play. 
The devastation from Hurricane Matthew has been apparent all along the way, home repairs, docks blown away, sailboats on their sides with tattered sails flapping in the wind. Difficult to see and a first for me.
Walked to town after checking in. Immediately went to waterside to see where all of our rally friends were anchored and docked. We are the only ones in the marina today aside from Doc's Orders who have flown to Michigan for Brad's Mom's recent passing. We walked the town and had lunch at Pub Americana, Brad got a hair cut, and I visited my (so far) favorite shop Green Apples:) It was a must that we visit the famous Travis Hardware, incredibly huge and very old with every thing a guy could want, shelves loaded with dust, dirt and a guy's dream. Went over to the Sugar Hut for donuts and coffee!
That ev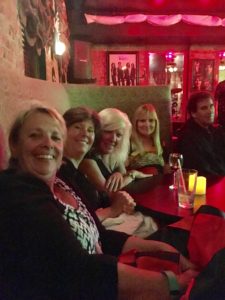 ening we walked over to Ryan's to meet the gang and a kick off from our host Brad (different Brad). Received goody bag with rally flag, good insulated cup and lots of coupons and guide magazines. Ate too much white pizza and walked over to Jazz bar, great band. Guys were cutting up with the picture taking trying to kiss each other, pretty funny.
Saturday– We walked the Village this am, there was a large arts and crafts exhibit throughout the town. Went to lunch at  Murdock's and set outside, Brad had fried okra, our fav!
Sunday -Best Day! Left at 9a to take van ride (Booze cruise host Robert) to Space Center with Valentine, Mauna Kea and Radiance. Amazing things we saw, including the shuttle Atlantis, Saturn V, the Vehicle Building (largest building in US for years that they build the spacecraft in). We saw a great IMAX film and hated that we didn't have time to see the second one. Brad, Ken and Jack were like kids in a candy store! Tour bus to cruise security area with the launch pads, saw 3 allig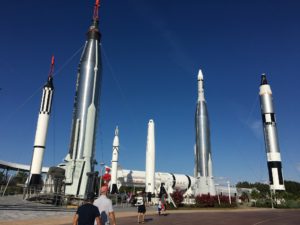 ators in a pond, driver said they restricted area is full of alligators, one was caught walking down the hall in one of their offices one day I bagged on the cocktail party with the major, Brad went and represented…speeches from major, Wally and city council members, they are interested in the rally's opinions about their city docks and anchorages and what they need to do to improve. Heard they served fab appetizers.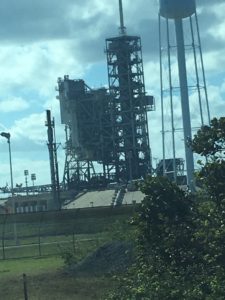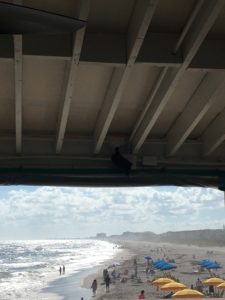 Monday– Walked over to catch the shuttle with Peter and Christine on Destiny, they are docked beside us now. Went to Ron/Jon Surfshop, biggest store we've ever seen. Bought some t-shirts for Xmas gifts. Walked across street to beach and ate lunch at the pier, rented chairs and an umbrella and sat for 2 hours on the beach. Brad took two naps, ha, ha. Weather is sunny, high 70's, surf is wild, Brad did some body surfing. He adores going to the beach, I believe I have pretty much outgrown my love for the beach but it was good to see him enjoying himself so much. We walked to Publix for some grocery shopping and Ubered home.
Tuesday– We had been scheduled to leave this am, but Wally recommended we stay put one more day, weather today has thunderstorms and wind, in addition to fact that he says next stop may not be as much fun.!! We went to breakfast with Valentine and Mauna Kea, Wally joined us, open croissant egg and cheese and great pastries.  Diane and I shopped the streets for 3 hours and had a ball, did a little Xmas shopping, etc. Brad did some contract work on the boat, we did have some heavy thunderstorms around 1pm, good day to stay put, thanks Walls.