ICW Day 55 Ft. Lauderdale, Royale Palm Yacht Basin, Tuesday, December 13. 18nm, STM 1068.8,
Total Miles 1166!!!  We made it!
We were concerned about the engine mount and particularly any leaking around the Saildrive seals.  Sure enough the alarm starting sounding that indicated that seawater was in the seal, but with on 18nm to go, we disabled the alarm and brought the boat home.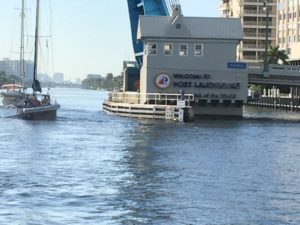 No fixed bridges, yea! but there were another 8 opening bridges to contend with.  Royale Palm is a no frills marina with a good price and location.  Only about 2 miles from the Ft Lauderdale channel with no bridges.
What an amazing trip.  Although we were never in danger, and the trip was nothing crossing an ocean, it was still an accomplishment.  Planning, navigation, boat handling was all different that what we were used to in the Chesapeake Bay.
Many thanks to all of our new friends on the Sail to the Sun Rally who helped us out along the way and made the trip more interesting.
The boat is now in the capable hands of Craig and Hannah Allison.  Craig and Hannah own MazOcean, a marine electronics company, and also run the Dream Yacht charter base in Ft Lauderdale.