ICW Day 51-53 North Palm Beach Friday, December 9-11  STM 1013.7, 21.5 miles, 1120 Total nm
Consensus from Wally and the rally is that all 8 of us leave anchorage today and head for North Palm Beach Marina, some 20 miles away. We left about 9:30am, bigger boats doing the 'clean up' Doc's Orders left just in front of us and immediately ran aground in an area that several had run aground on yesterday! Several of us had warned them, not sure what they were thinking this am. With high winds, questionable depth (chart plotter is not reading accurately in this anchorage), etc. we could do little more than radio them with our support.  We continued to texts with them and found that Boat US had arrived and was attempting to 'dig a tunnel' for them to motor out of. The poor fellow with Boat US turned his boat sideways trying to dig them out and nearly capsized…Sandy said he did lose his lunch pail overboard, I advised they give him a big tip to buy lunch…
As this was happening, Mauna Kea radioed us to say that Ken  had knocked his head into the cockpit hatch and may need stitches, Laurie said he was 'bleeding all over the place and wanted me to take a look at it…drama on the ICW, really???
Seven bascule bridges today!!! No fixed. Some were on request to open and a few opened on hour and 1/2 hr., 1/4 hr. and 3/4 hr. There didn't seem to be too much waiting so it went pretty well. We were pretty protected with land on each side the entire way, had a little rain but not too much. 
Sandy and Brad reported that Boat US was unable to free them so they were going to wait for the 2ft rise of tide. 3p or so, Tow Boat US did come back and did set them free. They should be here around 7p tonight and we will all be assisting them to dock and give them exact info needed to get here safely, motoring on the ICW at night is not anything to treat lightly.
Brad and Sandy showed up after dark and joined the entire group for dinner at an Asian Street Sushi Thai Bar Restaurant right here in the marina.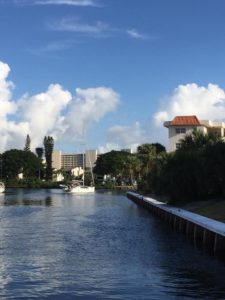 Saturday Day 52  December 10  Winds 15-20 here but we are quite protected, cloudy and rainy all day. I went with the ladies, Mary Grace had a rental car to an upscale mall close by. We had a great time shopping and had lunch, stopped by a Marshalls on the way back. Brad took some guys over to the country club to swim in the pool and had snacks. Later that evening during huge downpours the group walked nearly a mile to a Mexican restaurant. Brad and I were waiting it out on the boat, so Frank contacted us to pick up their rental car for them at the boat so we were saved, but were soaked walking home as too many folks packed in the rental!
Sunday Day 53 December 11 Brad and I walked to the West Marine about a mile away, Brad bought some new Keens for the boat (like Jack's:). We also bought a filter to hook up to hose for drinkable water, we have been buying all bottled water for drinking, many of the rally filter their own we'll try it. Ubered over to Walmart…waste of time and money says hubby…then ubered over to Duffy's Bar to watch the Broncos lose, game was good though, we got 'game' in the 4th quarter.
Sandy took the pic of Reflection above leaving the next morning.