ICW Day 41/42, November 28-29, Mon/Tues  Palm Cove Marina to St. Augustine 27 nm, statute mile 778.2, 912 total miles
Breezy day on the water, gusts up to 20mph. The 3 musketeers (Refection, Valentine and Doc's Orders) in single file pretty much the whole way. No bridge or grounding issues, if it hadn't been so windy it would have been a perfect day!
Arrived St. Augustine Municipal Marina around 4p. St. Augustine from the shoreline reminds us of a scene in Europe complete with old church steeples and stone walled forts.
That afternoon we walked the old cobblestone street with lots of eclectic shops, art galleries and restaurants. Ate at The Columbian, great spanish food, had an octopus appetizer that we shared, great piece of marinated fish and their famous Spanish rice with plantains and yuca!!
Next morning nearly the entire rally took the trolley to do a 1 1/2 hr tour of the town, Brad and I were in the caboose, had a bit of a swervy ride, it was fun and informative. Lots of laughs and some awful stories about how severe racism was in this town during the Martin Luther King days (he visited here due to the problems). Ate lunch at The Gourmet Hut, very crazy little courtyard place.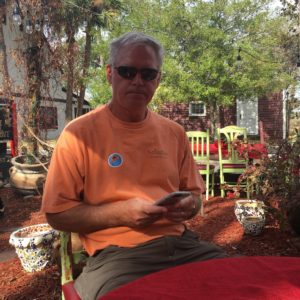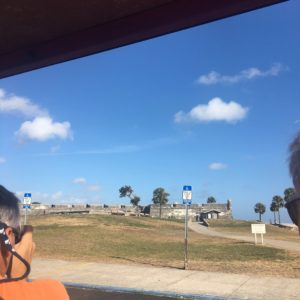 Most memorable was the last evening. We walked across the Bridge of Lions (windy!) to a karaoke bar to celebrate Eric and Corinne's last night with us (Reflection II). Eric has a great voice, sang a Bobby Darin tune, Somewhere Beyond the Sea. Jack and Diane san
g 'Jack and Diane' (what a hoot), Sue and Kevin sang a Meatloaf song, Wally sang a Louie Armstrong song, and all the girls sang Dancing Queen. What a great night! The place was a dive, however, they served only alcohol, no food, we had to order next door to get something to eat!!! Eric made up the  a departure song, 50 Ways to Leave Your Rally, it was perfect!