ICW Day 38/39/40, November Fri/Sat/Sun 25/26/27, Palm Cove Marina, Jacksonville, FL 41nm, statue mile 746.9, 885 total miles.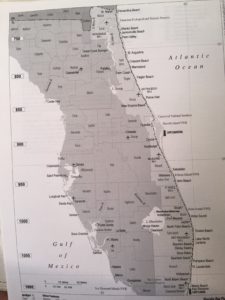 We are in Florida!  Quiet, sunny and warm day.  5 of us decided to go outside from St Mary's Inlet to St John's River inlet and then continue down the ICW to Palm Cove Marina.  Going outside allowed us to skip 2 bridges and for me to have the boat in a marina for when Terrie flies back.  Still had to time the bridges and come in after low tide…  Had to plow through the mud to get into the slip.
The marina is in Jacksonville Beach right on the ICW.  Enjoyed a nice happy hour and dinner at the Marker 32 restaurant on site.   Big grocery, West Marine, and other shops on Saturday worked out well.  
Surprised Terrie with everyone on board Saturday evening for drinks and snacks when she arrived.  After everyone left I made a couple of hamburgers and we relaxed for the evening.  We enjoyed a quiet day on Sunday working on the boat, and had a chance to Uber over the beach, walk around, and have lunch at a nice sports bar.   Ready to get underway for St Augustine tomorrow.