ICW Day 20, Saturday November 5, 31nm, 393.9 statue miles, 561 total nm.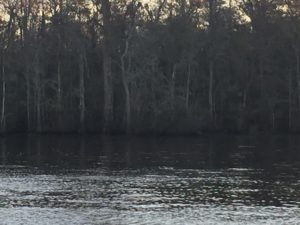 We left Myrtle Beach and ventured into the Wacama River.  Absolutely scenic.  The water levels were still high from the hurricane, but we could see high the water made it.  Way up the tree trunks, amazing.
Almost made it to Georgetown, SC today.  Unfortunately, we could not make it under the Lafeyette Bridge.  In fact, we hit the bridge again.  We were able to spin around and head back up the Wacamaw River and snag a slip in Heritage Plantation about 6 miles up river from the bridge.  A beautiful setting right on the river in a gated community.  Very windy after the front came through, and Terrie thought the waves under the bridge contributed to the issue.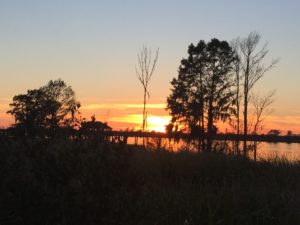 In any case Docs Orders did not even try to go under and stayed back with us.  Nice to have some company.  We enjoyed a nice meal on the boat.  Try again at low tide in the morning.