ICW Day 11/12, Thursday October 27, 29nm, mile 200.9, 369 total miles.  27 gal fuel.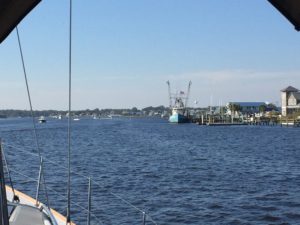 Another great weather day for the run to Beaufort (bo-fort), NC.  We have been hearing about Beaufort for years.  Nice to visit the town.  Docked in the town docks right alongside of town. Interesting town with a few restaurants and shops.   Enjoyed the farmers market and dinner in town.  Stayed 2 nights on the dock before going across the creek to anchor for the last night.
Wally picked up fresh shrimp for everyone before River Dunes.